Update
HR Simulathon- 2023 is over and you may
CLICK HERE
to view the list of winners. Some feedback from participants of this event are provided below. We will be announcing the next challenge soon. Watch this space!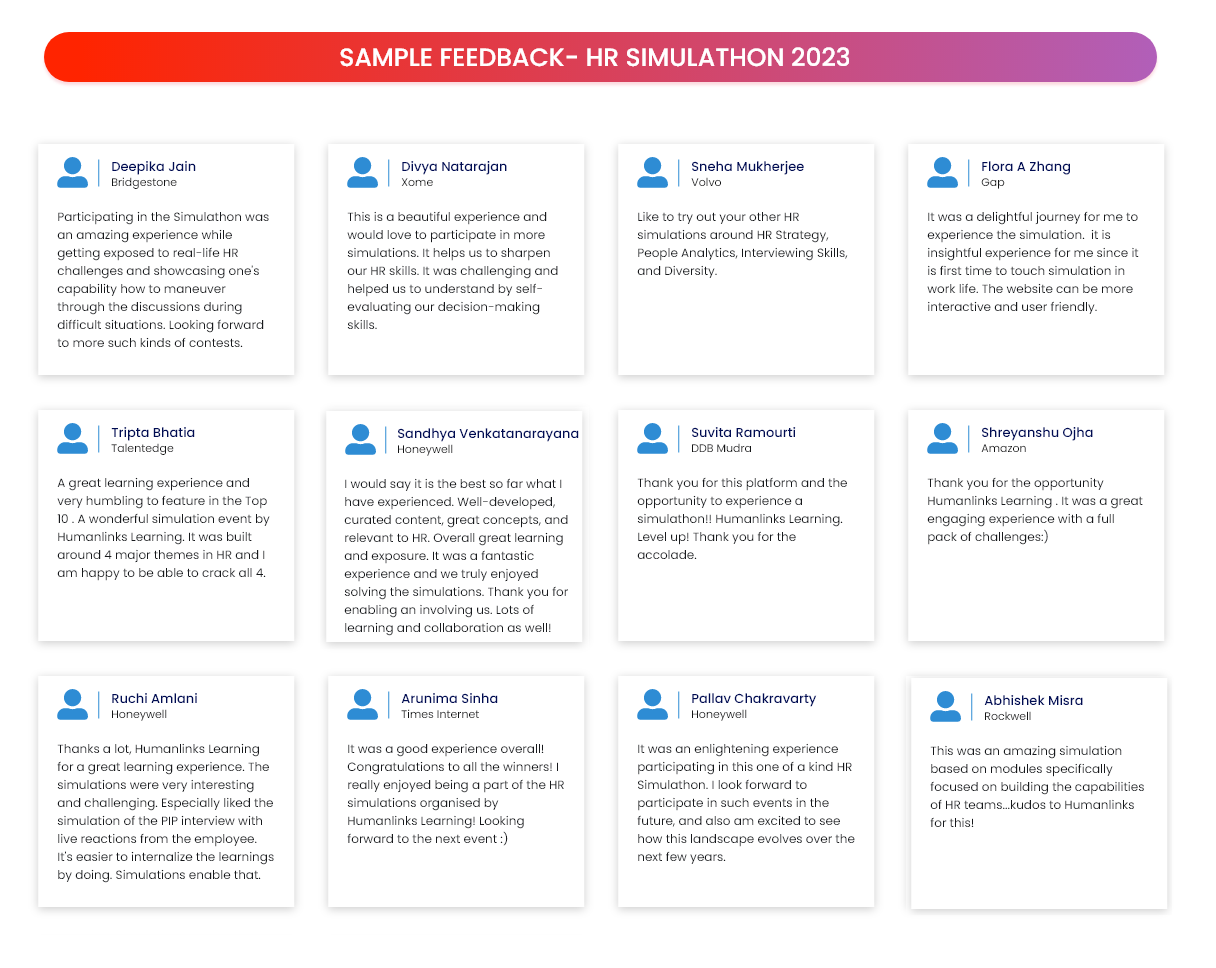 SIMULATHON as the name suggest is a marathon challenge based on simulations. We have organised
over 20 national-level inter-company, intra-industry and inter B-School programs
. These are challenges created around functional or Leadership themes. The latest one was around 4 areas of HR (Recruitment, Learning, Compensation, and Digital HR) and was
in collaboration with XLRI (NCR Campus), Tata Steel Adventure Foundation and Invok HR.

HR Simulathon-2023, as the name suggests, is an online contest, a marathon of simulation games, for HR Professionals.The contest will be open for 80 hours duration starting at 10:00 am IST on Thursday, 23rd February 2023, and conclude at 6:00pm IST on Sunday, 26th February 2023.
Simulathon Themes
Simulathon aims to provide both working HR Professionals and B School students with equal opportunity to showcase their expertise in various themes related to HR, namely:
(a)Recruitment
(b)Learning and Development
(c)Compensation
(d)Digital HR
All four games can be played at any time on any day in the above-mentioned duration of 80 hours. However, you should be willing to commit up to 8 hours for the complete contest
Who can Participate?
Whether you fall in the definition of a student, rookie, expert, whiz-kid or guru in the HR domain, the event has a great learning opportunity and technology experience to offer you alongwith a chance to win the award. To ensure level-playing field, there are two tracks to compete for the awards:

What will be my key takeaway from the event?
Simulations are useful for assessing the ability to apply knowledge in a real-world setting. The assessment measures your ability to think critically and apply your knowledge in a practical setting, rather than simply recall facts.It is an excellent platform for experienced professionals to try different approaches and form new strategies.
In contrast, young B-School students can have an enriching experience and gain abundant knowledge by applying their theoretical knowledge and visualizing its impact in a simulated environment. The best aspect of HR SIMULATHON-2023 is that the contestant can take maximum risk without worrying about grave consequences and see if their decisions make a crash landing or perfect touchdown. So that the participants can fasten their seat belts and steer toward well-earned rewards.
What are the various Awards associated with the event?
There will be the following awards and recognition applicable to both tracks separately:
1. "GRAND CHAMPION AWARD – HR SIMULATHON 2023":
This will be awarded to top scorer of the HR SIMULATHON-2023. The top score will be determined by aggregating scores of all four games. The award will be acknowledged with a Digital Certificate* and a Cash Prize.
2. "WINNER'S CUP – Name of THEME (e.g. RECRUITMENT) - HR SIMULATHON 2023":
This will be awarded to top scorer of a theme of HR Simulathon-2023. The award will be acknowledged with a Digital Certificate* and a Cash Prize.
3. "PROFESSIONAL EXCELLENCE CERTIFICATE – HR SIMULATHON 2023":
This will be awarded to TOP 50 scorers of the HR Simulathon-2023. The top score will be determined by aggregating scores of all four games.
The award will be acknowledged with a Digital Certificate*
*The Digital Certificates can be posted on social media (like Linkedin) easily and are verifiable by 3rd parties like corporates, background verification agencies etc.
Award Winners
The list of Award Winners will be published on this website within 7 days of the conclusion of the event. The awardees will also be informed via registered email and/or phone so, please ensure to mention the correct contact details.
How will I get to know the results and how can I use them further?
Details for accessing scores will be provided either on the website or sent via individual mail, to all participants.
You can use these results to understand the areas where you have performed well and areas where you may need more practice. You can plan your learning and individual development plan for further enhancing your skills in those areas.
If you want a deeper insight into your competencies displayed, you may register for a detailed Assessment and Feedback (A&F) by sending a mail to support@simulathon.com. A&F will include an additional MCQ/objective online test (30 minutes) followed by a detailed report and/or session with our experts. Further details of the A&F process will be shared via mail for interested participants.
If you want to invite your company to enhance capability building of your HR teams, we can offer customized solutions with a blend of knowledge, skills and technology. Our partners XLRI, NCR-campus and TATA STEEL ADVENTURE FOUNDATION will also be participating as per need to create any customized corporate learning and development interventions. You can also make use of our other simulations related to HR Functional Strategy, People Analytics, Behavioural Event Interviewing, Performance Counselling, Gender Diversity, PwD Sensitization, etc. and many more Leadership/Managerial/Soft skill simulations.
What about partcipation fee?
HR SIMULATHON- 2023 is aimed at providing HR professionals an experience of technology-enabled andragogy. Though simulations are expensive tools we are glad to offer these at no charges. However, to ensure that we have only genuine participants a registration fee is charged to all participants who are not using a verifiable corporate email ID. The registration charges are INR 295.00 for Indian nationals and USD 10 for international participants. This amount includes GST.
Other Terms & Conditions
The organisers reserve the right to modify any of the above clauses/rules, as deemed fit. Further, organisers will not be responsible for any exigencies that might impact the smooth execution of the event. In such a situation, the registration fee will be refunded back as soon as possible and organiser's liability will be resrticted to the amount of registration fees paid by a participant. By registering for HR SIMULATHON- 2023 you give your acceptance of all terms and conditions mentioned on this page and on this website.

Apply
Simulation is an imitation of real world process or system over time. Apply knowledge and skills acquired till now.
Evaluate
Evaluate how far you could proceed in the scenario with your flag flying high!

Simulate
Simulate the execution of your inputs.